Going on a road trip is an exciting activity that many families do often. But while traveling this way can be a good way to bond with loved ones, it can also be a stressful experience as you leave the many comforts of home behind for the road.
Mercedes-Benz may have a solution for that problem but it's going to cost $145,000.
House on Wheels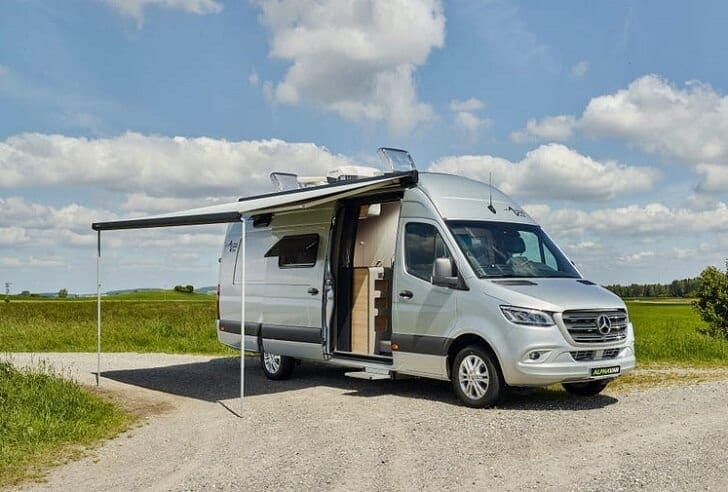 Together with German van manufacturer Alphavan, Mercedes-Benz created a camper van using a Sprinter as a base for a smart vehicle that's almost like a mobile tiny house.
The decision to use a Sprinter for a base instead of a Fiat Ducato, which is another popular base choice, was purposely made so that the Alphavan camper can utilize Mercedes-Benz's user control systems. This effectively turned the van into a smart home.
Users can control the vehicle's functions like locking doors by downloading the ME Connect system app on their smartphone.
The Alphavan camper has been in the works for 10 years and is now ready to meet the growing demand for camper vans in Europe.
Full Living, Tiny Space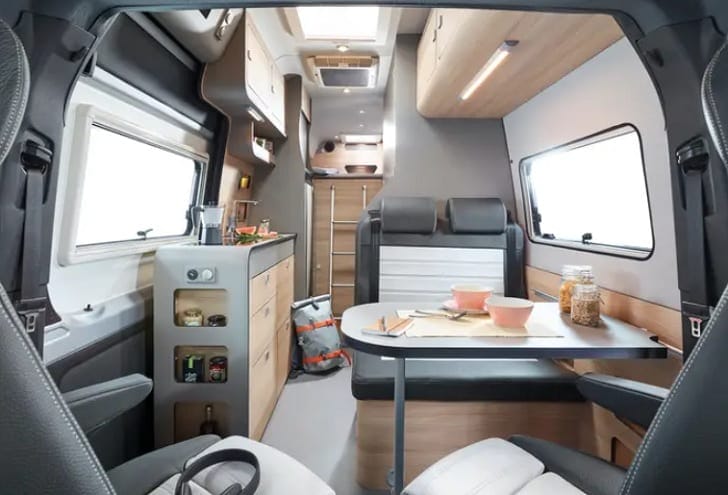 Inside, the vehicle is separated into several spaces. It fits a seating area, a full bedroom, a bathroom, and even a kitchen.
It also has a rear garage that can be used as an additional space for sleeping. The van can accommodate up to four passengers.
The van's interior space comes in two styles. The first one, called the soft-line, has a wooden and grey design theme while the other second one called the pure-line, features a white and grey color scheme.
Due to limited space, the Alphavan camper's designers incorporated a lot of nifty storage into the kitchen and living spaces. The kitchen features overhead cabinets and push-lock drawers sandwiched in between appliances like the refrigerator and the two-burner cooktop.
There's also a closet for storing clothes and shoes in between the bedroom and the bathroom.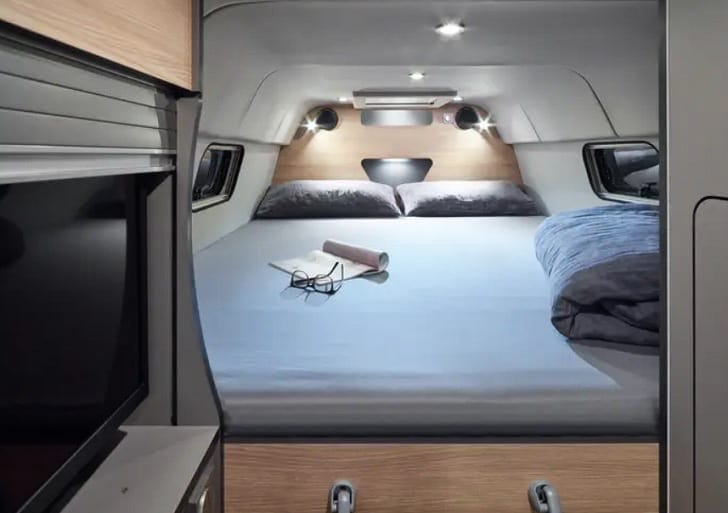 The van's bedroom is elevated to make room for a FlexPort, which can either be used as a garage space. The sleeping space can be reached by climbing a ladder.
The area is ventilated by side windows with shades. It also has outlets for charging as well as LED lights.
For entertainment, the van is equipped with a 22-inch smart television that can be turned to face either the bedroom or the living area.
The Alphavan camper is powered by solar panels and a 210-amp hour lithium-ion battery.