The war is on yet again, this time around it was because of the dropping of the United States nuclear deal that was announced last May 8 by United States President Donald Trump and as soon as that happened, reports of Syria getting attacked by Israel immediately broke out.
According to a news agency known as SANA, Israel have actually struck nearby military outpost in Damascus together with some air missiles being fired. The said attack struck a countryside known as Kisweh, and this is known for having a lot of Syrian bases and some reports from a Syrian TV confirmed that there has indeed been an attack since they have heard loud explosions.
This incident reportedly happened just an hour after the Iran Nuclear Deal ended. The Syrian Observatory for Human Rights, which is based in the United Kingdom, also confirmed that the missiles were aimed for the rocket launchers of the Revolutionary Guard of Iran and nine people were reported to have died from it. This information came from the activists who are working closely with the area to be able to monitor the situation. It wasn't made clear if those who died were from the Iranian militia.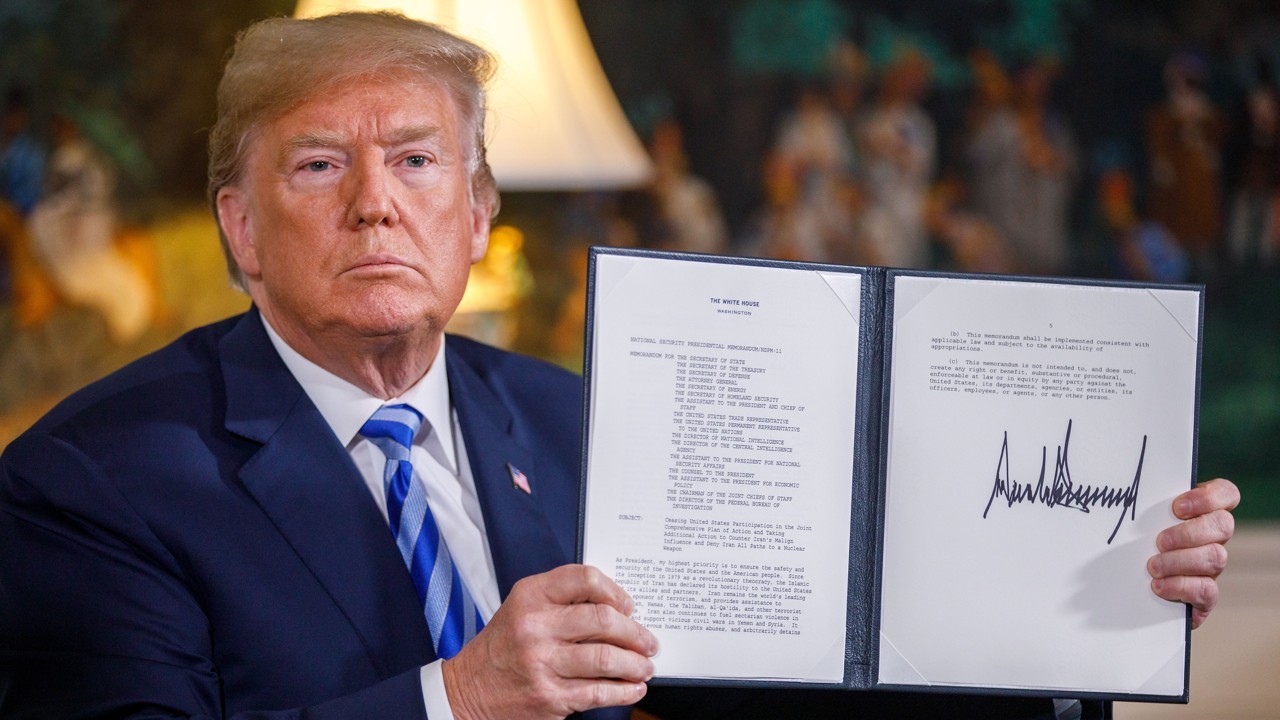 Trump signed a presidential memorandum on May 8

An attack was confirmed but as usual, Israel chooses to deny nor confirm that they actually have anything to do with the said incident especially if it has anything to do with Syria. Iran, on the other hand, had mentioned how they will definitely retaliate if ever they were attacked by Israel once more.
This isn't the first time that they have been attacked, the most recent ones were last month wherein seven people in the Iranian military die, also another attack on the government outpost of Syria where more than a dozen people died as well. In a recent statement, Israel said that they have been on high alert all week especially when Iran said that they will retaliate and they have also said that they have reservists for back up.
What Is The Iran Nuclear Deal?
Everything just took a whole another level of chaos when United States President Donald Trump decided to sign the memorandum wherein it states that the US will have officially withdrawn from the 2015 Iran Nuclear Deal.
The president actually described it as "decaying and rotten" which is why he definitely does not want anything to do with it. Because of this, Trump mentioned how there will now be even more sanctions on the nations of Middle East that will be imposed as soon as possible. This is said to be a warning to nations in the Middle Eastern region since he is planning on instituting a much higher level of sanctions. Trump even stated how he would never allow the country to be blackmailed. Ever since the deal was signed in 2015, Republicans have always been against it and it is obviously one of the reasons why this decision was pushed.
Iran's Military Budget is up more than 40% since the Obama negotiated Nuclear Deal was reached…just another indicator that it was all a big lie. But not anymore!

— Donald J. Trump (@realDonaldTrump) May 12, 2018
However, most people still don't really know anything about this controversial deal. This particular deal is actually the Joint Comprehensive Plan of Action, this deal was made by Iran together with the United States under former president Barack Obama with other nations. One of the reasons why this deal was made was to reduce any possibility of Iran producing weapons with the use of plutonium and uranium. According to Obama, in exchange, the sanctions were abated for Iran but the deal was merely for verification and not exactly because they were to be trusted.
Trump made it pretty clear during the presidential campaign in 2016 how he is definitely not in favor of the deal. His reason is that the deal simply made Iran more powerful compared to where it was a few years back and now they're a threat to the nation's security.
Remember how badly Iran was behaving with the Iran Deal in place. They were trying to take over the Middle East by whatever means necessary. Now, that will not happen!

— Donald J. Trump (@realDonaldTrump) May 13, 2018
What Happens Now?
Now that the US has withdrawn, the president of Iran Hassan Rouhani said that even if the United States has decided to pull out from the deal, it would still survive anyways. However, he warned that because of this, they would now start producing uranium nuclear weapons. This is not the very first time that he said this, in fact, he has mentioned this even before trump signed the presidential memorandum