What were you doing before turning 18, going to school, adding in some extra-curricular here and there, hanging out at the mall, working shifts to make some money on the side? Well, Kylie Jenner, one of the youngest self-made billionaires, according to Forbes, owned this impressive property before she even turned 18! Doesn't that sound crazy?
Before even creating her own cosmetics brand, Kylie Cosmetics, the billionaire owned this Tuscan-style mansion located in Calabasas. She bought the mansion for a whopping $2.7 million in 2015. However, in 2017, she went on to sell it for a substantially raised price of $3.15 million. The mansion has recently hit the market once more, for the price of $3.6 million, according to People magazine.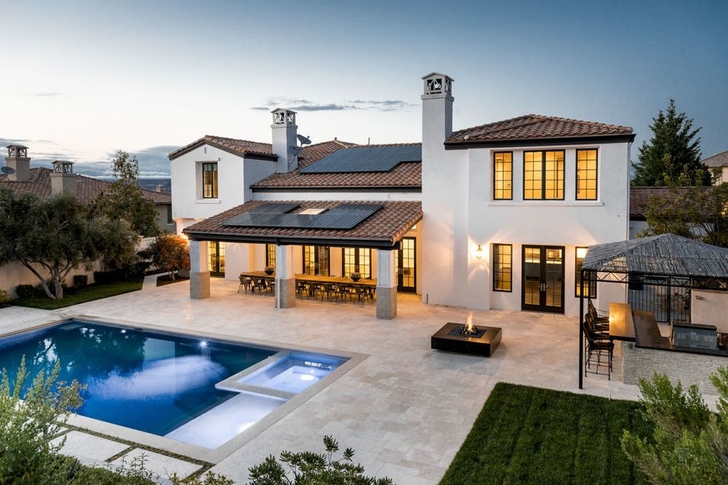 Elle Decor  | Kylie Jenner's starter home in Calabasas
Inside the Tuscan-Styled Mansion
The mansion sits on a magnificent 0.364-acre lot and covers about 4,851 square footage. Its two floors consist of six bedrooms and six bathrooms. One of the bedrooms, however, was converted into a glam room by the celebrity while she was living in the mansion. This room comes complete with customed drawers, lighted vanities, and thoroughly mirrored walls.
Kylie decorated the interiors of this glorious mansion with the help of Jeff Andrews, one of the best interior designers money can get. The interiors feature the clashing beauty of bright white walls, black hardwood floors, crown molding, and ceiling-to-floor length windows.
The master bedroom, one of the most striking rooms throughout the mansion, lies on the second floor and acts as a centerpiece for the mansion. It boasts a splendid monochromatic bathroom, a walk-in closet, and a separate sitting area. Other winning features of the mansions include its many entertaining amenities such as a pool, a covered loggia, a spa, a grill, and a bar.

Daily Mail | Kylie Jenner's spent over $40 million in real estate from 2017-2019
Kylie's Current Real Estate Ventures
Kylie Jenner's real estate ventures just keep growing ever since she bought her first Calabasas home.
After selling this admirable property, Kylie went on to invest in a mansion and two mini-mansions in Hidden Hills worth $12 million, $6.03 million, and $4.5, respectively. In Hidden Hills, she also bought a 5-acre vacant plot worth $15 million. The pop star, Miley Cyrus, previously owned this plot.

Variety | Kylie Jenner's first Hidden Hilles mini-mansion
Kylie's most recent investment is a brand new compound in Holmby Hills worth $45.95 million. The compound sits on a massive 0.83-acre lot, with the main house of this new spectacular property covering an area of 15,350 square feet.
The property also includes two separate guest apartments that ensure the complete privacy of both the celebrity and her guests. The house itself features seven bedrooms, 14 bathrooms, a central courtyard, a dining area, an outdoor theatre, a sports court, a pool, a spa, and a fire-pit. Isn't that a mouthful?