Winch Design has created a brand new superyacht and to say that it's an absolute genius creation would be an understatement! It's also quite easy to work out just what the concept of the yacht is all about. They call it the Beach Explorer; it's sized decently, spanning 367 feet from the start to the end, and the purpose of this lavish machine is to enable extensive ocean adventures. 
Winch Design is an organization based in London and is well known for its magnificent work on the interiors of yachts and private jets. Insiders at Winch Design have revealed that the inspiration behind the vessel is people's liking for water sports as well as diving. This is exactly why the creators made sure to pack the ship with lots of gears, toys, and amenities to ensure that the voyagers are entertained while at sea.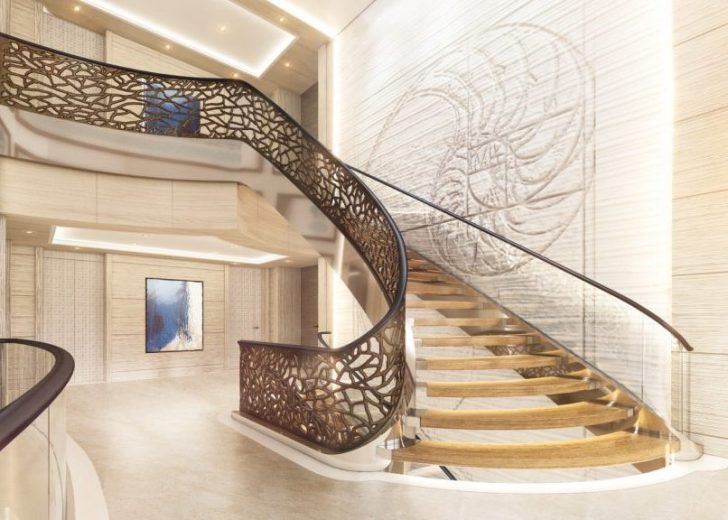 The Vessel's Amenities
SuperYacht Times reports that the sizable vessel is quite impressive; it has compression chambers as well as a garage that can fit a 59-foot dive boat. The boat can accommodate around 30 guests at a time and therefore, a decent amount of people can learn the ins and outs of diving, all at once!
The vessel consists of six decks in total, and across them all, you'll find amenities such as a gym, a spa, a 33-foot swimming pool, a hammam, an outdoor cinema, game tables, and a sunken bar. Towards the aft, you'll find an awe-inspiring float-in-dock with toys and tenders and a waterslide lounge.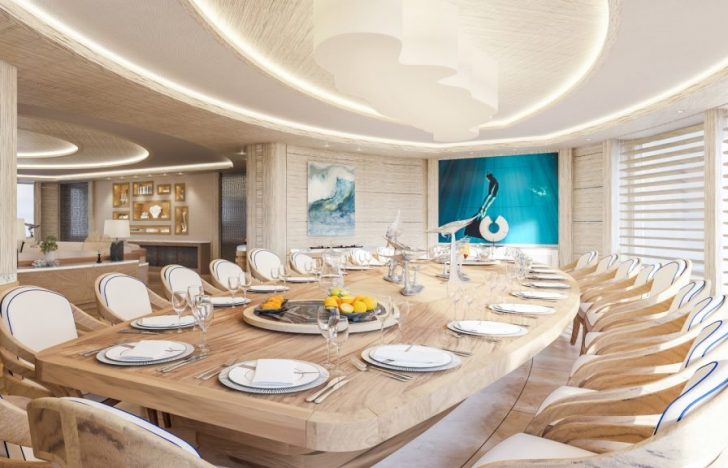 Winch Design said in an email that there aren't very many yachts like the Beach Explorer; only a few have the ability to effortlessly blend the aft tender marina to the waterslide lounge like the Beach Explorer! They went on to say that the yacht is quite an exciting concept to work on. 
The Interior
On the inside of the ship, almost everything has a neutral color with accents of blue to give off a seafaring feel. When you hear of Winch Design, you expect luxurious furnishing and high-end materials throughout the ship, and your expectations are surely met.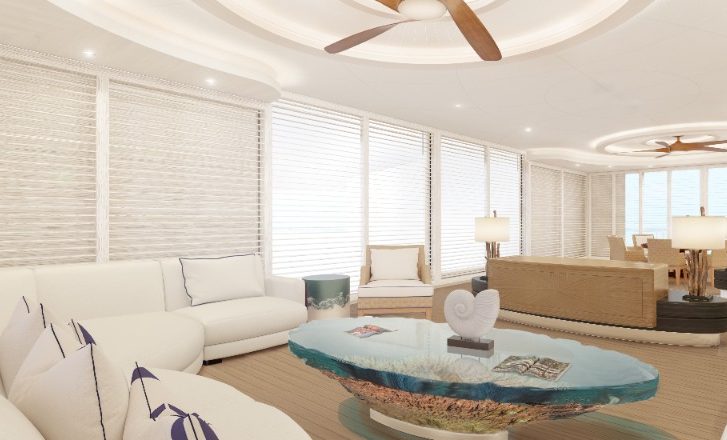 The layout of the vessel is splendid as well! It's centered around the main dining room that can seat 22 to 25 guests as well as the main salon that can also seat up to 25 guests at once. The ship consists of convertible cabins as well, which can accommodate up to 22 people. 
The owners' suite is the best part though; lying towards the private owner's deck, the room consists of an ensuite, a walk-in closet, and direct access to the adjoining helipad!